SEASON 2022 SAISON
2022 est notre 21ème saison de production de sirop d'érable! Nous offrons aussi la tire d'érable et le beurre d'érable toujours sans agent de conservation!
La saison a débuté tôt cette année avec une coulée et production de sirop plus tôt que toutes les années précédentes. Nous sommes aussi au troisième printemps sous les conditions de Covid-19 et heureusement grâce à la vaccination massive, nous pouvons recommencer à recevoir des gens à la porte pour la vente de sirop d'érable.
L'entaillage a débuté très tôt après Noel question d'être prêt. Les précipitations de neige ont été très faible cet hiver et pour presque tout le mois de janvier nous pouvions travailler sans l'utilisation de raquettes dans le bois, ce qui est particulier.
L'an dernier nous avions ajouté les formats de cannes traditionnelles et elles fûrent très populaires donc nous continuons dans ce sens. N'oubliez pas que nous ne servons pas de repas à la cabane. Appelez-nous ou textez-nous avant de venir au 450-292-3338.
Dernière mise à jour 21 mars.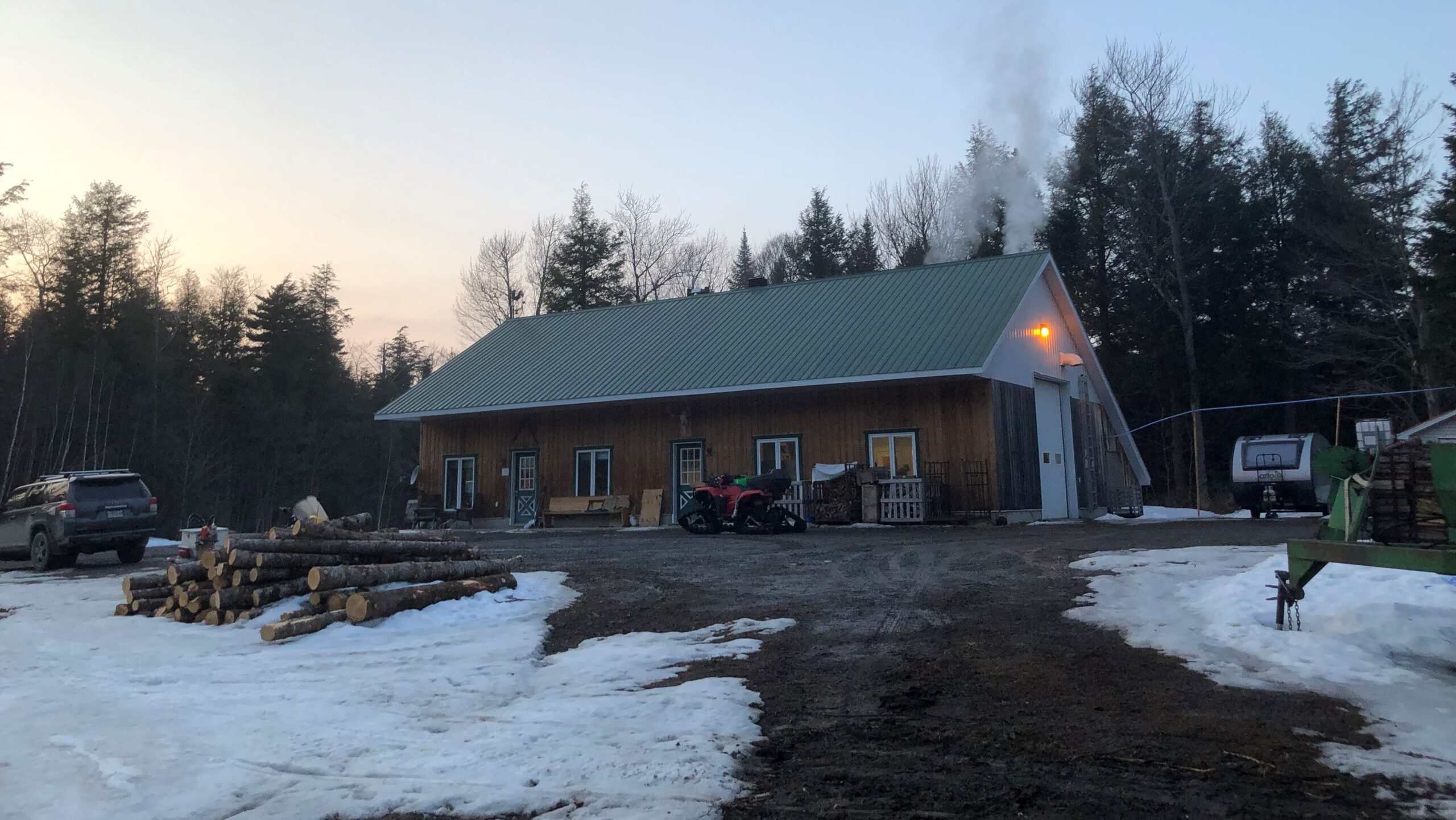 2022 is our 21st season of maple syrup production! We also offer a limited quantity of maple taffy and maple butter which is always as usual without any conservation agents.
This season started early with the earliest production of maple syrup in all our previous years. Unfortunately this is a sign that's aligned with global warming and we are not sheltered from this it seems. This is also the third spring in a row under Covid-19 conditions. Thanks to mass vaccination adoption in Quebec, we can now welcome people again to visit us at the door to purchase maple syrup directly from us.
Tapping the trees started very early this season as early as right after Christmas to be ready and it was a good call. The snowfall has been very low as well, so much that we didn't need snowshoes most of January which is new to us!
Last year we added the traditional metal cans container to the delight of our clients, so we are going to continue with these by popular demand. Remember we do not serve meals at the sugar shack. Call or text us ahead of time before showing up to ensure we are available 450-292-3338
Last update March 21st.