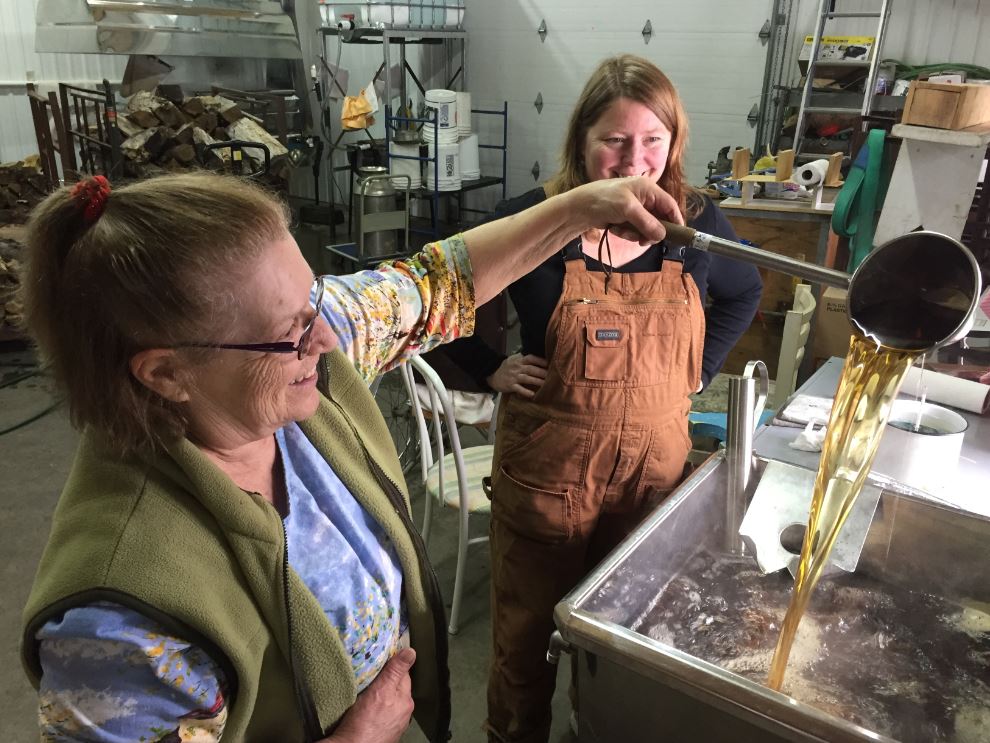 2016 est enfin arrivée!  C'est la 15ème saison de production de sirop d'érable, de beurre d'érable, tire d'érable et chocolats fourrés au beurre d'érable!  Le printemps est très hatif cette année, un hiver très doux contrairement à l'an dernier.  Le couvert de neige est mince aussi mais tout semble normal sinon.   On a déjà hâte aux fameuses recettes que nous pourrons faire avec le sirop de l'année.  Le sirop d'érable est de plus en plus populaire grâce à l'émission un chef à la cabane et Martin Picard.  On se rend compte que l'attention à la qualité que nous portons à chaque année est contagieux car nos clients consomment de plus en plus nos produits.  Vous êtes tous invités à visiter Lise et André Paris à la cabane.  Venez faire un tour pour une randonnée en forêt en même temps.  Notre site est exceptionnel!  Les produits 2016 vous attended déjà!  Appelez nous sinon pour faire une commande.  N'oubliez pas nous ne servons pas de repas de cabane. Appelez-nous avant de vous déplacer au 450-292-3338 sinon hors saison au 450-360-0688.
Les photos qui suivent ont été prises durant l'entaillage et le début de la saison 2016.
EN: the 2016 season
2016 sugaring season has arrived! This is our 15th year of maple syrup production but we also make maple butter, maple taffy and chocolate filled with maple butter! Spring is very hasty this year, a very mild winter unlike last year. The snow cover is thin but otherwise everything seems normal. We look forward to try new or traditional recipes we'll be able to do with this year's fresh maple syrup. Maple syrup is increasingly popular due to the tv show a chef à la cabane with Martin Picard. We realize that the attention to quality over quantity we bring each year can be contagious as we notice our customers are consuming more and more of our products. You are all invited to visit Lise and Andre Paris at the sugarshack. Come on down for a hike in the forest while picking your sweet treats. Our site is truly exceptional! 2016 products are already available! Call us to place an order. Remember we do not serve shack meal. Call us before you travel to the shack at 450-292-3338,  if your are off season call 450-360-0688.
The pictures that follow were taken during this season's tapping of the maple trees.